Cooking with Soroptimist
November 2023
In the video we explain the importance of eating more sustainably. Anybody can do it by choosing local seasonal products. It is not only healthier but also fun and better for the environment.
The video was prepared by OjitodeGato Producciones and filmed on location in Mijas, at the vegetable garden of Antonia of the local association: "Alegría de la Huerta Andaluza".
We would like to thank Luisa our hostess and Antonia and Antonio, our cooks, who explained how to prepare a Gazpacho Fresco and a Salmorejo Mijeño.
The recipes:
Gazpacho fresco (Cold tomato soup)
• Tomatoes without skin
• Garlic ++
• Olive oil
• Stale bread in water plus some dry pieces of bread
• Water
• Salt
Take the skin off the tomatoes and the garlic. Mix and crush the ingredients, put some dried bread apart to add before serving.
Salmorejo Mijas style
• Salted cod
• Oranges
• Chives (or onion)
• Water
• Olives
Roast the fresh salted cod on the BBQ, remove the bones and shred into small pieces, add olive oil, tasty oranges, water and finely chopped chives or onions. Garnish with green olives.
To watch the video please follow the link: https://youtu.be/vYSz41SuKKU?si=jl36WC3l3czVZr3-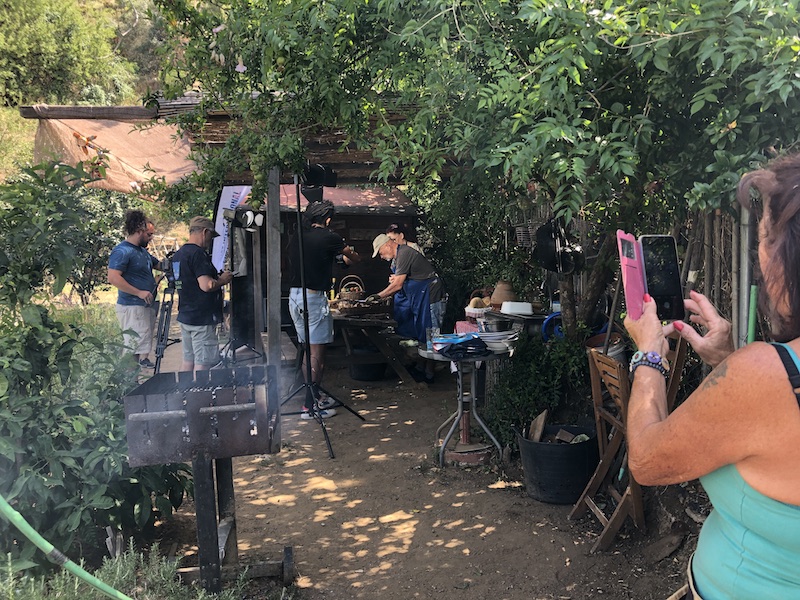 ---
Soroptimist Award II – Feed your Optimism – Winners
October 2023
On the 5th of June we launched the search for candidates for the Second Soroptimist Award, our way to reward local organizations or companies who contribute to positive change to our local food system. Organizations that promote organic foods, local products, teach about sustainable food, ways to avoid food waste, etc. These are this year's candidates and winners:
Food cultivation and distribution
The Hevilla Family from Coín has been cultivating land in the Guadalhorce Valley for generations; producing all types of vegetables and fruits in a 100% ecological way. The Hevilla family first produced for their own needs, but then Sebastian decided to share his delicious harvests with other people and the idea of ​​an ecological market was born in 2006. The Hevilla Family participates in the ECO market that at different towns during the week. They are also dedicated to using the seeds of our grandfathers and grandmothers to have the tasty products of yesteryear. Cultivating the soil in a sustainable way and with respect to the earth and our planet is the most important. The Hevilla Family has different plots of land at different heights which they use to rotate the produce and create a crop cycle.
Sustainable food production
A family business in Entrerríos, Mijas that for several years has been producing and selling organic eggs without antibiotics and without genetic modifications – They have 3 stables with 4,500 chickens that only eat organic feed and go out into the open air every day and that shows in the flavour of their eggs. They sell directly to users and are also very supportive by giving eggs to different NGOs. Las Pencas received a "Sabor a Malaga" recognition for its great work. Las Pencas is also dedicated to organic farming, growing 250 mango trees, more than 100 grapevines, as well as almond and fig trees.
Education and food awareness
The Association for Mediterranean Agroecology is a non-profit association, guided by principles of independence, pluralism and participatory democracy. Founded in 2005 in Malaga by an interdisciplinary core of people with different professional profiles, veterinarians, agricultural engineers, designers and communicators. They seek to promote a model of fair rural development and sustainable food systems in favour of Food Sovereignty and generate in society a solidarity and ecological awareness as a principle towards social transformation. They are committed to agroecology as a technical and scientific tool integrating academic and peasant knowledge. The gender perspective is part of their action strategy.
What they do: Food education, Short channels, Food transformation, Agro ecotourism, Sensory gardens. Promote, coordinate and facilitate participation, training, advice, cooperation and dissemination of Organic Local Food Production, Agroecology, sustainable rural development and food sovereignty. The activities have been promotion, training, awareness-raising, information and the creation of viable certification and marketing alternatives for local organic producers and processors.
Innovation and technology
"In collaboration with families and farmers projects in our area, we grow quality cereals and work on the recovery of forgotten wheat varieties. Thanks to our mill we work directly with the grains. A union with the territory that allows us to make unique semolina for our pasta and flours that preserve all the intensity and aroma of the best cereals. Artisan preparation: we follow the traditional method so that our pasta has a differentiated texture and flavour. We shape the pasta with bronze cast and dry it at a low temperature to respect the nutritional properties of the grains. The best organic and artisan pastas for you!"
Sustainable restaurant
A unique project, starting with sustainable food production, growing its own vegetables in a clean and 100% organic way in a 300m2 pilot farm that is close to doubling its extension, the production of filtered water km. zero with a unique plant in Spain that eliminates the use and waste of water containers and the non-emission of CO2 in its transport, the recycling of all its plastic, cardboard and glass waste and finally, the use of organic waste with the inauguration of a state-of-the-art composting plant that produces fertilizers for its own organic crops, in order to close the cycle, with a great effort to raise awareness among staff and diners.
The presentation of the Soroptimist Awards 2023 took place on the 19th of October at the town hall of Mijas.
---
Soroptimist Award II – Feed your Optimism
June 2023
In 2021, Soroptimist International (SI) Costa del Sol began to participate in the United Nations General Assembly manifesto to find ways to make local food system more sustainable, inclusive and resilient. To do this they introduced the Soroptimist Award to help promote local businesses and organisations who work towards sustainability.
As feedback from participants and guests was very positive, SI Costa del Sol continue to find people/businesses in the Malaga province who make a positive change to the food system and deserve recognition for their work. Daphne Theunissen, President of SI Costa del Sol hopes that businesses/organisations from more rural parts of the Malaga province will also take part.
Therefore, SI Costa del Sol invite people to put forward businesses or organisations who promote and use organic food, local food products, teach about sustainable food systems and ways to avoid food waste and plastic waste. Candidates for the second Soroptimist Award can be presented online until the 29th of September, via the following link: Nomination form
This year there is an impressive panel of judges consisting of representatives from various organisations that include Fundación Aula del Mar, Justicia Alimentaria, Red Cross Málaga and Sabor a Málaga. Daphne Theunissen continues to be grateful to Costa Women for promoting the Award and would like to thank Mijas Communication for their ongoing support, and of course the foreigners department of Mijas for their collaboration.
The Soroptimist Award covers various categories: Food farming and distribution, Production of food products, Education and Awareness, Innovation and Technology and additionally restaurants who use local organic food and drinks. The presentation of the winners will take place on Thursday, 19th of October 2023 at Mijas Town Hall.
Please contact Soroptimist with any queries: soroptimist.fsd@gmail.com
---
Traditional vegetable gardening with Antonia
May 2023
In February we started the second workshop to learn traditional vegetable gardening in Mijas, our local expert Antonia, explains the traditional methods, the importance to work together with nature, what to plant when and how. The participants get their hands dirty and over the months can see the fruits of their work and eat the produce.
Together we can make a difference!
If you are interested in taking part in the next workshop, contact: soroptimist.fsd@gmail.com
---
Inaugural Soroptimist Award – Feed your Optimism I
April 2022
Many organisations and businesses in the province of Málaga are working towards a more sustainable food system. They do not always get the recognition they should receive. SI Costa del Sol invite you to put forward organisations and businesses that are actively making a positive change to our local food system. Think of organisations and businesses that promote organic food, local food products, teach about sustainable food, ways to avoid food waste.
Candidates for this First Soroptimist Award can be nominated until the 15th of May 2022. The winners will be presented on the 7th of June at La Noria in Malaga.
Categories:
Food farming and distribution
Production of food products
Education
Awareness
Innovation and Technology
Restaurant promoting local, organic food and drinks.
The form is in Spanish but you may answer the questions in English: https://forms.gle/P4nhoMzif1dNgWdh7
Please contact Soroptimist with any queries: soroptimist.fsd@gmail.com
---
Traditional vegetable gardening with Antonia
April 2022
In February we started the first workshop to learn traditional vegetable gardening in Mijas, our local expert Antonia, explains the traditional methods, the importance to work together with nature, what to plant when and how. The participants get their hands dirty and over the months can see the fruits of their work and eat the produce.
Together we can make a difference!
Contact: soroptimist.fsd@gmail.com
---
A Sea of Optimism
December 2021
With our recycled Christmas tree, we want to draw your attention to the Mediterranean Sea. We are lucky to live so close to the water and to be able to enjoy it. Unfortunately, the sea is not as clean as it should be, and the fauna is threatened by pollution and climate change. Sometimes animals get trapped in fishing gear or they get ill or die when they eat the waste around them.
We have made this Christmas tree using waste and objects found on our beaches and in the local ports. We want to raise awareness about the importance of protecting the marine environment, because we can only improve the situation if we work together. Join a beach clean-up, don't leave your rubbish at the beach, buy less plastic and check that it is biodegradable.
---
Let's start with a summary of the information we found out about the United Nations Food Systems Summit.
In the autumn of 2021, the First United Nations Summit on Food Systems will take place in New York. The organizers realize the importance of welcoming the whole world to the table and ask for their feedback and ideas on the subject before the start of the summit.
Everyone needs nutritious food each day and many people are involved in this directly – in the production, distribution and preparation of food – or indirectly – by making policy and by fighting for the environment or animal rights.
A dialogue has to welcome stakeholders from various backgrounds and with many different perspectives, to make sure that all voices are represented. Participants need to be open to different points of view and to listen to each other. We can look for opportunities to transform our food systems, while recognizing their complexity and the significant impact they have on the whole world. A dialogue allows us to complement the work of others, avoid duplication and encourage innovative new thinking.
The organizers reached out to the world and asked member states, organizations and independent convenors to organize dialogues and to ensure they capture as many views and ideas as possible. They ask all participants to respect a set of rules in order to stay focused on the best result, which is a meaningful contribution to the summit:
All participants will hold themselves accountable for their commitments
The dialogues should take place in a "safe space" which promotes trust and encourages mutual respect
The conclusions emerging from the dialogues are not attributed to single individuals.
The reporting system which was put in place gives everybody the opportunity to share what they have learned and to add to the content of the Summit.
The deadline to reach the Sustainable Development Goals is 2030, only 9 years away, so it is time for co-ordinated actions which bring us nearer to the goals, which should ensure a better future for our children and their children.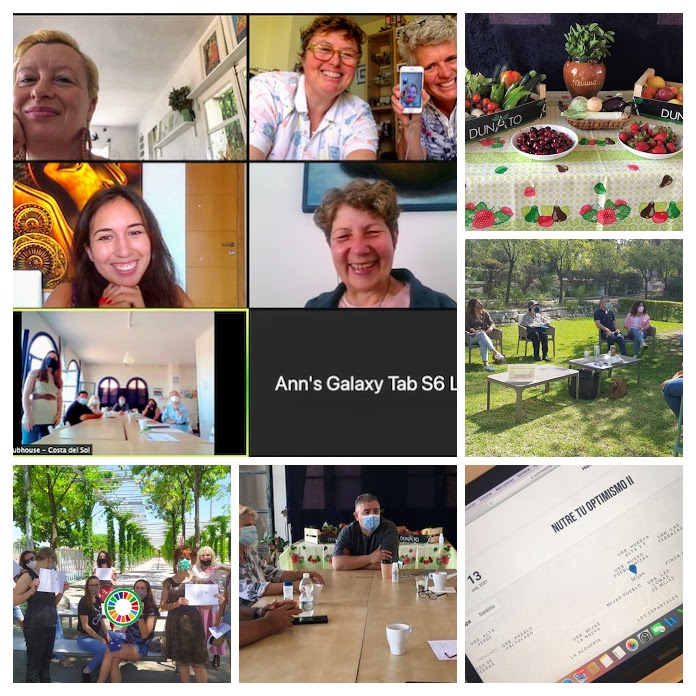 On 29th May our first dialogue took place. Due to the pandemic it was held at different locations in small groups of maximum 10 participants. On the feedback form for the UN the views and conclusions of our participants were brought together. The second dialogue took place online on 13th July and focused on the actions we can take locally to make our food system more sustainable. We invited a diverse group of stakeholders: environmental groups, health, farming, distribution, local government, NGOs, local leaders in the food system etc.
We feel optimistic because through the dialogue we were able to connect people and organizations locally and to share the outcome of our dialogue with the world via the online platform. This was a unique opportunity to show our local food system – with its challenges and solutions – to the world, to share what we learned and to contribute to reaching the Sustainable Development Goals.